Table could not be displayed.
When it comes to buying mixer grinders for domestic purposes, 750 watt is the best power output for almost all grinding and mixing tasks. But mixer grinders are also available in 500W for personal use. Mixer grinders that fall below 500w are entry-level appliances.
The most preferable and popular mixer grinders fall under 500W to 750W in India. But you should still go with 750W mixer grinders because of some reasons.
Why Choose 750 Watts Mixer Grinder Over 500 Watts?
It is basically the difference between motor watts. Simply speaking, a higher watt means the machine generates more RPM and takes lesser time to grind any item. The jars are also large to hold more amounts of ingredients at once in a 750W mixer, in comparison to 500W.
Another reason to choose 750-watt mixer grinders is they are generally more durable and their jars are harder as compared to mixer grinders with 500-watt power.
If you dry grind spices and grind idli batter, you should definitely go with a 750W mixer. If you go with a 500W mixer, you need to buy another wet grinder to make dosa/idli batter. It is believed that batter becomes tastier if it is made of wet grinders. But the 500W grinder is sufficient only for light jobs.
Though 750-watt grinders are comparatively more expensive than 500W, you should still go with 750W grinders as they are more powerful and sufficient for daily use.
Bestselling 750 Watt Mixer Grinders In India

1. Preethi Blue Leaf Diamond 750-Watt Mixer Grinder with 3 Jars
Can't live without spices in veggies and love to grind ingredients like your mother at home? Go with Preethi Blue Leaf Diamond 750-Watt mixer grinder and rest assured with the best performance and top quality.
It has 100% stainless steel blades which are polished and machine-ground for superior and quick grinding performance. It has variable speed settings for complete control on grinding and it comes with well-designed blades and a powerful motor to give smooth purees and fine powders.
Whether you are planning to buy a new mixer or replacing an old one, it is always better to go with Preethi Blue Leaf Diamond 750W mixer. It is an efficient mixer with a shockproof and rustproof body made of ABS plastic.
This kitchen appliance has stainless steel jars that have gone through water load tests and salt spray before being assembled to assure its durability and stability. It also features a Flexi lid to make changes to the jar capacity.
It also comes with three-speed controls as well as pulse function which consume 750W power. You can easily prepare fresh masala to prepare mutton curry. It needs just 230 volts/750 watts of power. It has a powerful and efficient motor and the best choice to upgrade your old mixer.
››› Learn more about choosing the right Preethi mixer grinder in our latest review.
No products found.
2. Inalsa Jazz Dx 750-Watt Mixer Grinder with 3 Jars
Inalsa Jazz Dx mixer grinder gives great grinding and mixing performance with ample convenience. It has been designed well to save ample kitchen space and it is very easy to maintain and clean.
It has a bigger round chute to save more time in chopping and peeling so you can have ample time to enjoy meals. It has three very strong and durable jobs. It won't spill or come off when you blend it. It includes 1.2 l. liquid jar, 0.4 l chutney jar, and 0.88 l. multipurpose jar.
Blades in the jars are actually made of the best quality stainless steel. No matter how thick your ingredient is, this mixer can give good results. It is secured against sudden overloads with a great motor safety device. It also has anti-skid feet to keep it steady.
These feet are stable enough to use them with confidence. The appliance features three-speed settings so you can easily blend and grind ingredients and also increase speed without overloading it. It also has incher if you have to grind on your own.
3. Prestige Iris (750 Watt) Mixer Grinder with 3 Stainless Steel Jar + 1 Juicer Jar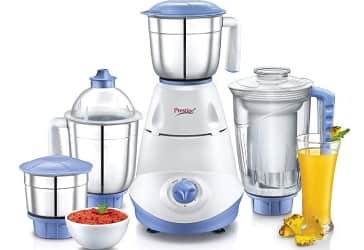 Bring home your most reliable and versatile companion, Prestige Iris 750 watt mixer grinder. It has a transparent juicer jar and three stainless steel jars built to care for all your juicing and grinding needs and its 750W heavy-duty motor built for every task to be performed easily and quickly. You might feel a varnish smell from the grinder when you first use it. Don't worry; it will fade after a couple of uses.
The prestige Mixer Grinder is known to have a powerful motor. You can enjoy fast and smooth blending performance with every use. It features four jars made of stainless steel and it features a robust 750W motor.
It has a multipurpose blade to process food with ease. You will definitely fall for this mixer grinder from Prestige for its great design. It is known to have a transparent design so you can see the whole blending and grinding process.
It is known to have a sturdy mauve-colored handle made of top quality plastic. It fits in your grip and also avoids slippage well. Its blade has been designed to grind and blend ingredients well. It is made of top quality and robust stainless steel.
This mixer grinder can serve different purposes. From grinding hard ingredients to fruit blending, you can blend everything well.
Find more information on the best Prestige mixer grinders in our review.
4. Maharaja Whiteline Joy Turbo 750-Watt Mixer Grinder with 3 Jars
You can easily make juices and chutneys at home very easily with Joy Turbo 750-watt mixer grinder from Maharaja Whiteline. This mixer grinder has a plastic body with a compact design and light body. It has 3 different jars for various types of juicing and grinding.
It has a powerful motor and it features stainless steel blades for great strength and durability. This Maharaja Whiteline mixer grinder comes in Turbo size which makes a great gift for any household.
Maharaja Whiteline Joy Turbo makes culinary processes easier and you can easily and quickly grind or blend ingredients. It has heavy-duty 750W motor and stainless steel jars to deliver the best.
It is well designed to blend, grind, and liquidize even the complex ingredients and make your recipes very delicious. Joy Turbo Mixer Grinder can definitely be a great addition and is blended well in premium silver and black. It is a robust kitchen appliance that gives quick and great results all the time.
It has 3 stainless steel heavy duty jars that measure 1L, 0.4L, and 1.5L which is fitted with various designs of blades to serve wet and dry grinding needs. This machine has so much to offer and can easily make cooking faster and easier. It has non-slip feet for added safety. It comes with 5 years of warranty.
5. Bajaj Twister 750-Watt Mixer Grinder with 3 Jars
With Bajaj Twister 750-Watt mixer grinder, you have the freedom to do more in the kitchen. It has been designed for great durability and performance. This mixer is very capable at your home. It comes with a 750-watt motor for ample performance and horsepower as well as 18000 RPM for smooth performance all the time.
The motor of this mixer grinder comes with 5 years of extended warranty. It has great peace of mind and stress-free performance.
It adds aesthetic appeal with its polycarbonate domes and it also gives ample dust protection and ensures stress-free performance. You can use three jars – a 1-liter dry grind jar, a 1.5-liter liquidizing jar, and a 0.3-liter chutney jar. Bajaj is well known to deliver quality and reliable products. So, you will get 2 years of original warranty with this mixer grinder.
6. Butterfly Smart 750-Watt Mixer Grinder with 4 Jars
With a sleek finish and stainless steel jars, Butterfly Smart 750W mixer grinder has a sleek look. So, it balances well between design and durability. The mixer grinder is energy efficient as it takes 230 volts of current. It is going to have razor-sharp blades with an RPM of around 20000.
It chops, cuts and mixes ingredients of any size. It is truly a value for money and well-designed products to reduce preparation time and serve your purpose. It has a smart speed control knob to serve the purpose to adjust varied speeds.
You can easily control the mixing or grinding process of food items in your kitchen with its speed control option. It is going to have a whip feature to run the machine at high speed and you can easily grind chilies easily or coarsely.
This appliance is the perfect combination of low maintenance and durability. It is built to take care of all your needs. It is made of top-quality stainless steel and it has appealing look on the jar which also provides rust-free maintenance with superior longevity.
It has a razor-sharp rotator to chop off all the food items or ingredients well. It comes in handy when it comes to grind or chop coarse or hard ingredients like cardamom and black pepper. It offers great performance as it meets all your grinding and chopping needs.
7. Philips HL 7720 750-Watt Mixer Grinder with 3 Jars
Mixer grinders are the basic needs for every kitchen when it comes to mixing, grinding or blending ingredients. Philips HL 7720 750-Watt mixer grinder is sturdy and delivers great performance. It features a powerful motor for great performance for all types of ingredients.
This Philips mixer grinder has an innovative design to avoid motor damage because of overheating. It is an all-purpose, versatile mixer grinder to prepare all your favorite dishes. It is a feature-rich appliance with three variations – dry grinding, mixed grinding, and wet grinding thanks to its 3 different jars.
It has been blessed with robust stainless steel blades for faster and smoother grinding and one can easily dismantle them for clean up. This mixer grinder is very easy to use with 3-speed controls. You can easily use it as you like and it adds safety with auto shut off feature.
It is the best choice for your kitchen as it delivers superior performance at the best price. You can easily fix your regular day to day problems for great results. It is a superior, powerful and dependable solution to serve you well.
It grinds ingredients as you like. It has got overloading protection with a speed regulator. It has 3 stainless steel jars with razor-sharp blades to perform dry grinding, mixed grinding, and wet grinding.
Don't miss our article about the best Philips mixer grinders on the market.
8. Havells Maxx Grind 750-Watt Mixer Grinder with 3 Jars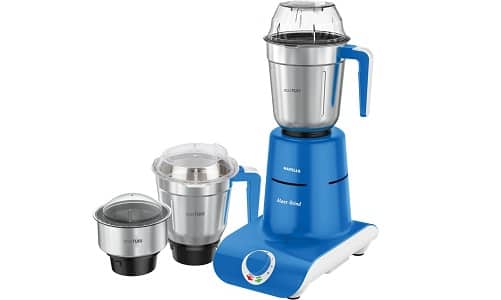 Havells Maxx Grind 750W mixer grinder has been designed to make meal preparations a whole lot easier. It is finally here to help you process ingredients seamlessly as it comes with ergonomic design. The vivid color of this machine is added bonus.
It is the best choice for a modern household and it has got an efficient motor to make it best for modern homemakers. When it comes to choosing a home appliance, convenience is a very vital feature. Havells mixer grinder has been designed with ergonomic handles. You can easily hold them on the top and remove them once you are done.
Lids are very vital for jars. So, lids are designed to keep the blend inside from coming outside and also prevent outer pollutants. It has transparent lids so you can easily keep track of the mixture when it comes to grinding them. You won't find any problem to keep this mixer grinder anywhere.
It has got a robust base with an anti-slip grip. You may also want to control the speed when using it. Procedures and speed vary from ingredient to ingredient. This kitchen appliance comes with 3-speed controls.
It is a very useful appliance with its seamless dial. It has got a sleek design that complements your kitchen décor well.
9. Pigeon by Stovekraft Torrent
Almost everyone is familiar with the brand Pigeon by Stovekraft, yes; this brand has been marketing mixer grinder for a long time. The model torrent from this brand comes with several attractive features that could stand second to no other brands.
This mixer grinder comes incorporated with a 750-watts motor that is designed to function a long time without burning out. This device is made of premium quality materials, which includes the body that is made of virgin plastic and the motor made of high-quality copper. One of the notable things about this device is that it is portable and at the same time compact.
Yet another important feature that comes incorporated into this product is the automatic shut-off feature that turns off the device if used for a long time. The manufacturer offers three jars (1.25 liquidizing jar, 0.7-liter grinding jar, 0.44-liter chutney jar) with this product that will enable the user to grind and grate any material.
These jars come with three blades at the bottom that will grind and grate all ingredients, as you require. The manufacturer Pigeon Stovekraft provides a 1-year warranty on this product.
10. Morphy Richards Icon Supreme
A mixer grinder is a kitchen appliance that is designed to make any users work in the kitchen easier and efficient. If you are a person who is looking for a mixer grinder that can serve all your requirements, then Morphy Richards Icon Supreme is the one product you are looking for.
The manufacturer Morphy Richards offers this product with five hardened stainless steel blades that are designed to serve different functions with ease. The blades are not the only thing that the manufacturer offers, the product also comes with a 1.5-liter liquidizing jar, wet/dry grinding jar of 1-liter capacity, a chutney jar of 0.4-liter capacity, and a Flexi jar of 1.5-liter capacity.
One of the notable things about this product is that the device comes incorporated with a three variable speed control knob that allows the user to perform different functions with ease. This mixer grinder consumes only 750 watts of power and the motor comes with a 5-year warranty, on the other hand, the manufacturer offers a 2-year warranty on the product alone.
However, there is one thing that makes Morphy Richard Icon Supreme a unique product is that it comes with a high-quality copper motor that delivers maximum power and efficiency.
11. Usha Mixer Grinder (MG-3576)
Usha is one of the best kitchen and home appliance brands in India. This brand unlike most of the brands on the Indian market has a legacy of marketing top-quality mixer grinders and other home appliances.
The Usha MG-3576 mixer grinder comes specially designed for preparing coconut chutney, juices, Dosa batter, Idli batter, milkshakes, etc as this mixer grinder can help to grind and grate to provide perfect texture.
This mixer grinder comes in a sturdy bell design that offers higher stability and in turn, less duration. One of the notable things about this mixer grinder is that it comes set with a three variable speed setting and a strong pulse function. The entire product is made of ABS material that is guaranteed to last long without breaking or deforming. This product comes with nylon 66 that enables hassle-free and smooth functioning.
12. V-Guard Mixer Grinder Victo
If you are a person looking for the best and long-lasting mixer grinder, then we recommend that you consider purchasing this product.
The V-Guard Victo mixer grinder is as far, the most energy-efficient mixer grinder available on the Indian market right now. All the mixer grinders from V-Guard come incorporated with motors that have 100% high-quality copper winding which comes with class F insulation.
One of the notable things about this product is that the motor incorporated into this mixer grinder is high-torque producing and it is specially designed to run on low voltage and even on inverters. This mixer grinder comes with an overload protection feature that switches off the mixer grinder at overload.
The manufacturer offers jars with this product that comes made of special grade stainless steel, which is certified as durable and comes incorporated with durable blades. This mixer grinder also features vortex flow technology that increases the efficiency of grinding.
13. Orient Electric Miracle MGMR75S3
Are you looking for a compact mixer grinder? If yes, then Orient Electric Miracle MGMR75S3 is the best option for you.
This mixer grinder comes with jars with blades made of special grade stainless steel that enables the grinder to grind super fine food. The jars come made of thick stainless steel; the manufacturer has also incorporated flow breakers in the jar that will increase the efficiency of grinding.
The mixer grinder consumes only 750-watts power and the manufacturer offers a 5-year warranty on the motor. On the other hand, the manufacturer offers a 2-year warranty on the product. The product comes with an overload protection feature that will switch off the device if the device has an overload.
How to Choose the Right Mixer Grinder for Your Kitchen
Choosing the right mixer grinder for your kitchen is important and at the same time, it is not very difficult. There are some of the factors which you can consider to choose the right model which would meet your needs. Below are the details.
Power
The first thing that you may want to note is the power of the mixer grinder. You will find many where the power varies between 500 watts and 750 watts. Higher power translates into higher speed and a better grinding experience.
If you often find yourself grinding dry spices, you can go ahead and choose the mixer grinder with a higher power. For an Indian kitchen, it is anyways recommended to purchase a higher power mixer grinder.
Speed
The second thing to check is the speed. Check out the maximum speed that the grinder can rotate at. The speed may vary between 18,000 rpm and 25,000 rpm. Just like power, it is better to have something that has a higher speed limit but you need to have the speed settings as well. This is because if you are planning to extract juice or grind chutney, you will have to do it at a lower speed.
Type of Jars
Jars are always going to be one of the most important parts of the mixer grinder. Most of the model comes with 2 or 3 jars. One of the jars is meant for liquids and the second jar jars for grinding anything dry or grinding chutney.
This is the bare minimum requirement and you must also check the quality of the jar. The body should come of durable material and it should also have a durable lid. It is worth checking the cost of replacement jars as well.
Some of the mixer grinders also come with juicer attachment so you can check if your mixer comes with any such provision. This would help you in saving the cost that you may incur in purchasing an additional juicer.
Blades
The next important aspect that we would like to talk about is the blades. The blades are quite important when it comes to a mixer grinder and it is important to ensure that the blades are made of tough material.
You will find most of the companies manufacture the blades from 304-grade stainless steel and they are hard as well as durable. Check for the quality of steel as well because we are sure that you do not want your blades to rust quickly. Most of the time, the blades can easily be replaced in after-sale service so you can even go ahead and check out the cost of such replacements.
Warranty
Warranty is another important aspect of a mixer grinder. The fact is that you are simply buying a motor that can work under high load conditions. In such a case, it is important to ensure that the product comes with a warranty that can be enough to protect you from any manufacturing defect or any quality issues.
Most of the brand would offer anything between 2 to 5 years and you can easily choose these products but you will also come across many mixer grinders that will provide a year's warranty
Budget
So, this is the last thing to be considered and here, just ensure that whatever you are purchasing is in your budget. Avoid anything that feels overpriced and that is not value for money. Check out the brand and ensure that the brand is also reliable when it comes to such kitchen appliances.
How many watts is good for a mixer grinder?
The answer to this question depends on the type of grinding that you want to use your mixer grinder for. If you do not really grind the hard stuff then you are good to purchase a mixer grinder with power as low as 400 to 500 watts.
If you plan to grind hard things like dry spices then you must go ahead and purchase a mixer grinder with higher wattage (750 watts). On top of the line, you will find mixer grinders that come with a wattage of 750 watts to 1000 watts.
What is the price range of a 750 watts mixer grinder?
This is a very subjective question and the answer would actually vary a lot. The price is dependent on several factors like the brand and the number of accessories provided by the brand. Like for example, you will notice that the mixer grinders from brands like Philips are going to be expensive than the local brand.
Talking about a general price range, the price may vary between Rs 2,500 to Rs 3,500 for a mixer grinder that has a power of 750 watts. They will certainly be outliers but we have given you a rough estimate here.
Final Words
If you want to go with power-saving and cost-saving, you may want to go with a 500W mixer grinder if your needs are limited. But if you need more power and efficiency, you should choose a 750W mixer grinder.
We hope you will be able to choose the best mixer grinder from our top picks mentioned above.
You can also check out some other mixer grinders available on the Indian market in the following list.
No products found.